NBG HepatoShield and Hemorrhagic Fatty Liver Syndrome (HFLS) in laying hens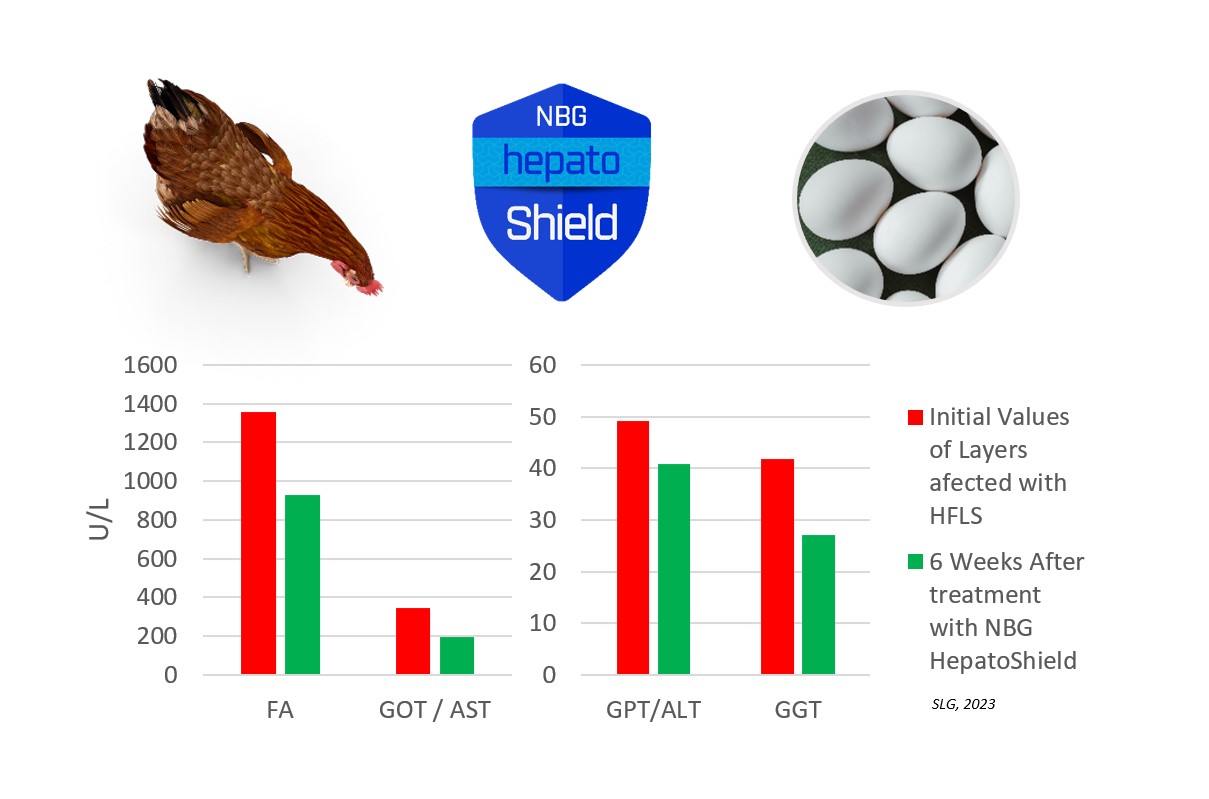 Dear colleagues,
This week our article discusses the hepatoprotective effects of boosted silymarin, NBG HepatoShield, in laying hens.
Silymarin is a flavonolignan compound derived from the seeds of milk thistle (Silybum Marianum) with hepatoprotective capabilities due to its antioxidant effect on liver metabolism, helping to replenish glutathione stores used by the hepatocyte to fuel glutathione peroxidase GPTx function.
In addition, silymarin appears to stabilize cell membranes, scavenge free radicals and stimulate protein anabolism in the liver.
As a consequence of its activity, aminotransferase (AST), alanine aminotransferase (ALT), alkaline phosphatase (ALP) and gamma-glutamyl transferase (GGT) levels are reduced.
As mentioned above, NBG has boosted the effect of silymarin with NBG Bioboost technology, creating the NBG HepatoShield product:
Thanks to them, we have been able to reverse the symptoms of hemorrhagic fatty syndrome in laying hens reducing FA, ALT, AST and GGT levels by up to 43%.
Hemorrhagic fatty liver syndrome (HFLS) is a disease characterized by an excessive accumulation of fat in the liver that causes liver rupture, hemorrhage and sudden death of the birds. Affected animals can experience significant economic losses due to mortality and decreased egg production and shell quality.
To conclude, here is an article showing the hepatoprotective effects of silymarin in poultry: